REED VIEWING LIGHT & HARMONICA STUFF
Shown below are photos of a REED VIEWING LIGHT I developed.
All you need is a small, cheap flashlight, a clear plastic pipette and some tape.
Cut the pipette to desired size. Center it on the flashlight. Secure with tape. DONE!



---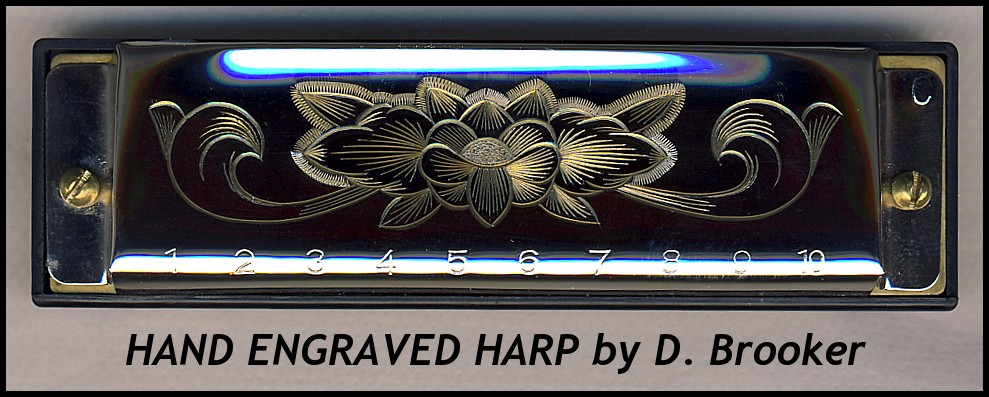 Shown is a harp cover I engraved by hand MANY years ago!!
---


Harmonicas with custom labels NO LONGER AVAILABLE! I will sell the technology for creating them!
				
Due to health problems my business is CLOSED!
---



Click on these links to view our additional products.

**NEW** LENTICULAR BUSINESS CARDS

WOOD BUSINESS CARDS & LABELS

MUSIC RELATED PRODUCTS

CLOCKS WITH CUSTOM PRINTED VENEER FACES

JOURNALS WITH CUSTOM PRINTED COVERS

FABRIC BUSINESS CARDS

HOLOGRAPHIC BACKGROUND BUSINESS CARDS

SMartGRAIN(TM) INKJET PRINTABLE WOOD VENEER




---


Here are some useful Harmonica Links

Dave Gage Website - Listen and learn to play the harmonica.

Rupert Oysler's website - A great source for harp repair information.



---



Dennis Brooker  Click here to email  Ph 1. 641. 862. 3263

D. Brooker & Associates, 55858 - 260th Ave., Chariton, Iowa 50049 USA

RETURN TO HOME PAGE

ALL PAGES, INFORMATION AND IMAGES ARE COPYRIGHT  © DENNIS BROOKER  2006 - 2010